Shai, Lily, and Becky Korman win Best Co-Hosts at podcast industry awards
WASHINGTON - January 12, 2023 - (
Newswire.com
)
The sibling trio of Shai, Lily, and Becky Korman took home two Signal Awards for their critically acclaimed podcast, Friday Night Movie (FNM). The weekly show won Best Co-Host Team (Limited Series), which recognizes the most engaging, entertaining, and complementary on-mic chemistry. Friday Night Movie placed ahead of comedy legend Conan O'Brien in this category. The winning episodes were from FNM's heartfelt and hilarious Infertility Special, which chronicles Lily's IVF journey. 
Friday Night Movie also won an award for Best Buddy Podcast (General) for outstanding programming with friendship and camaraderie as central to the format. Since 2017, FNM has amassed a loyal following using their unique brand of family banter to cover movies, television, and major pop-culture events, including SXSW and Baltimore Comic Con. Treating the audience and guests as members of the family, Friday Night Movie has interviewed people ranging from actors, directors, and musicians to the fan favorite - their mom. 
"We are grateful to the extended Friday Night Movie family, to our guests, audience, and relatives (that pretend to listen) for continuing to bring our pod into their ears and hearts," said Shai Korman, co-host and producer of the show. "We are just getting started. Lily, Becky, and I don't plan to stop arguing or loving all things movies and TV anytime soon." 
The Signal Awards are the premier honors for excellence in the podcasting industry with nearly 1700 domestic entries coming in from twenty-five states and global entries coming in from four different continents. FNM competed alongside podcasts produced by media giants, including Apple, Audible, HBO Max, iHeartmedia, National Geographic, Netflix, and Paramount. 
Podcasting legend and early FNM supporter and guest Janet Varney (The JV Club podcast, Legend of Korra) said, "I am thrilled to see the Signal Awards recognize the Kormans and Friday Night Movie. Warning: you WILL want to be part of this funny, talented group of sibs, or at least be inspired to flex your creative muscles in your own life!"
Shai and Becky reside in Arlington, Virginia. Lily lives in Tenerife, Canary Islands, Spain. Though they live thousands of miles apart, the siblings have produced over 350 combined episodes, live streams, in-person events, and specials.  
Follow Friday Night Movie at fridaynightmoviepod.com or @frinightmovie on social media.  
Contact Information:
Shai Korman
Producer / Co-Host
[email protected]
703-879-6464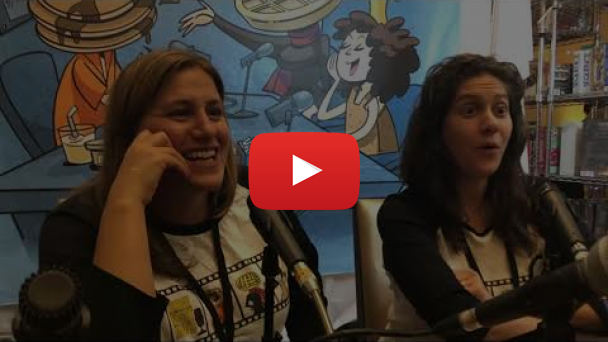 Related Files
FNM Blue Logo for Web.jpeg
FNM black square logo from 2022 vector.png
Press Release Service by
Newswire.com
Original Source:
Friday Night Movie Wins Two 2022 Signal Awards for Excellence in Podcasting