BigHoops, an Atlanta-based startup, is building the first tech-infused, basketball-themed, entertainment dining experience based on one of the world's most popular sports
ATLANTA, April 11, 2023 (Newswire.com) - BigHoops, Atlanta's newest and hottest startup, emerged from stealth mode today to announce a pilot location in West Midtown Atlanta where they are testing their immersive basketball experience at a local Atlanta microbrewery ahead of plans to build their first full-scale entertainment restaurant in Atlanta in 2024.
The company placed a prototype machine at the Second Self Brewery in West Midtown in late 2022, and since then, over two thousand players have played BigHoops games, increasing foot traffic to the brewery and earning dozens of five-star Google Reviews.
At the core of the entertainment experience is the BigHoops machine, a four-axis machine that places the player on an immersive virtual basketball court with several addictive basketball-themed games to choose from.
While the player shoots balls from one end, the patented, robotic machine moves a full-size hoop (complete with screens and sounds) in three dimensions and spins to reveal either a standard-sized hoop or a larger "BigHoop". AI technology adjusts the difficulty of the games to each player, allowing players of all skill levels to build social connections. The result is a fun, social basketball experience that broadens participation in the world's most popular court sport.
"The goal was to create an addictive basketball game experience that anyone can play," says founder and CEO Paul Brown. "The AI-driven system adapts to each player's ability and levels the playing field, so even if you're brand new to basketball, you'll have a blast. We want to do to basketball what other entertainment brands have done for golf: democratize the sport and turn it into a fun, social experience."
BigHoops was founded in late 2022 and raised their initial seed round of capital from Atlanta-based angel investors including CampbellKlein, a seed-stage high-tech fund with multiple successful investments from Silicon Valley to Atlanta.
"I've been coaching basketball forever," says coach Derrick Mitchell, an award-winning high-school and college basketball coach, "and this is one of the most exciting things I've seen. It's an awesome experience for everyone that comes in, for all ages and skill levels."
The BigHoops team has assembled the technology, supply chain, real estate and restaurant competencies necessary to open their first full-scale location in Atlanta in 2024. The location will feature a dozen or more BigHoops machines providing immersive gaming experiences for all ages and skill levels. These will be accompanied by a huge sports bar, upscale restaurant, and other entertainment.
"We want to put the player in the game," says Brown, "so they feel like they're playing with their favorite team and their favorite players. It will be an unforgettable experience that keeps people coming back for more."
Learn more about BigHoops: www.bighoops.com; contact: [email protected].
Contact Information:
Paul Brown
CEO
[email protected]
4044803177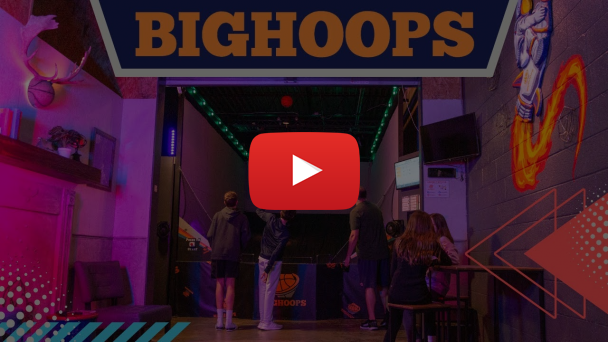 Original Source:
BigHoops Emerges From Stealth With Pilot Location and Thousands of Happy Beta Customers